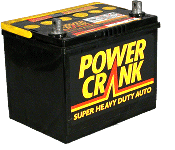 A car battery has a set of important functions, like stocking up energy and supplying power to the ignition system, starter, fuel system and other electrical components. With regular battery service and replacement from Continental Murrumbeena, you can avoid sudden breakdowns and keep your vehicle running even in the harshest weather. Whether you drive a Ford, Honda, Hyundai or a Toyota vehicle, our experts will diagnose and maintain the health of your car battery. At Continental Murrumbeena, we assure you that you will have the pleasurable experience with us. To schedule your battery replacement, call us at (03) 9579 0007. Our service areas include Murrumbeena, Hughesdale, Malvern East, Chadstone, Oakleigh, Bentleigh East & surrounding suburbs.
Having our car mechanic to do a battery service is an easy way for long-lasting peace of mind. When you come to us, we will inspect your car battery and other electrical components, and let you know how much life is left in your car battery. We will also recommend the cheap car batteries for replacement, if necessary. If our experts determine that your car battery is not working as it should be, we will replace it with a top quality PowerCrank battery.
If the terminals are corroded or dirty, this would affect the functionality of your car battery. Our battery experts will clean the corrosion from the cable ends and terminals and apply appropriate solution to avoid future corrosion.
Why Choose Us?
Best Value – Cheap Car Batteries Replacement:
With our better pricing, lengthy warranty period and seamless installation, our customers can enjoy the best value for their money. We supply high-quality batteries that can provide years of flawless operation.
Each battery we supply will undergo several rounds of testing to ensure its better capacity, power, and resistance.
We have been in the industry for long years and are trained to provide appropriate service for your situation. No matter what the problem with your car battery is, we will always look for the ways to save your money.
From battery repairs & reconditioning to replacement, our line of services covers everything you need. As a customer, you can expect great service and exceptional products from us.