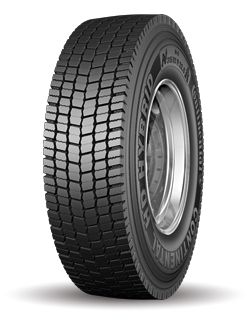 The Continental HD Hybrid truck tyre is a Goods and People Motorway Drive tyre.
Flexible suitability for the combined service in motorway- and distribution -traffic.
Well-balanced fuel consumption to mileage ratio thanks to optimized interplay of tread-stiffness and -geometry.
Very good traction in all weather conditions thanks to balanced lateral groove to sipe ratio.
Enduring traction over life time due to well-elaborated transition of groove- and superstructure.
| Sizes | Width | Ratio | RIM | Load | Speed | OD | Run Flat |
| --- | --- | --- | --- | --- | --- | --- | --- |
| 295/80 R 22.5 | 295 | 80 | 0 | 152/148 | M | – | – |
| 295/80 R 22.5 | 295 | 80 | 8.25 | 152/148 | M | – | – |